Biography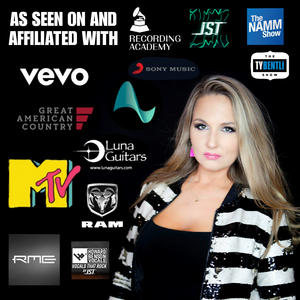 Nashville producer, singer, songwriter, composer and recording artist, Justine Blazer, has been taking the musical world by storm, earning 7 #1 singles on various independent charts.  Her unique style of edgy country/pop/rock is infused with a hint of Detroit soul and modern vibes. 
She is a member of the The Recording Academy was on the 64th Annual GRAMMY ballot and is a current GRAMMY voter. She is a CMA and ACM member. She is a 2021 Josie Music Award winner.  Her music has been heard on CMT, The Country Network, MTV, CBS and has received 5 major sync licensing placements recently, as heard on the "The Young and Restless" 2 Holiday movies coming this holiday season to a major network.  
Justine musical journey began at a very young age, studying vocal, music theory, piano and opera.  Her professional career launched when she won the Nationwide Ram Trucks Battle of the Bands competition. That lead to an extensive tour playing 250 dates a year coast to coast opening for Jason Aldean, Justin Moore, Lee Brice, Kathy Mattea, Regis Philbin, Lonestar and more, while receiving endorsements from Luna Guitars, Dean Guitars, Ram Trucks, Chrysler Incorporated and more.
In 2013, she released her 4th studio album "Gasoline". She wrote/co-wrote all 12 songs. It was recorded at the acclaimed Sound Stage Studios on Music Row, produced by Nick Autry and mixed by Billy Decker. She had much success with this album. Her first single, "Not Going to Take You Back" hit Top 100 on the Music Row charts, along with a successful radio tour. Then "Gasoline" was the #1 most downloaded song on the Play MPE List. Following was "Las Vegas", added to the IHeartRadio country station new artist rotation. Then her next single and music video for "Amen for the Weekend" was added and aired on GAC, ZUUS, TNN and more. Her last single off the album was "On The Edge With You". It hit Top 10 on the European Charts, sparking a European Tour in 2015.
In the Summer of 2016, she was selected to be on the new TV show, "American Supergroup", produced by Anastasia Brown, Kevin Wayne Waldrop and Gary Wayne Bridges.  It aired on MTV and POP Networks.
She went on to release her 2017 single entitled "Like It Never Happened", which was picked up by SONY Red distribution. She then followed up with "Lie Anymore" and then her 2018 single release "No Tomorrow". 
In the spring of 2019, she released her 7th studio album, "Pioneer Soul Shaker". Justine produced, engineered, mixed and mastered the whole album in it's entirety.  It features 12 tracks, with her debut single of the album "Pioneer Soul Shaker", followed up with "Replay", and then "Sweet Child of Mine", the Guns N Roses cover. 
In the fall of 2019, she was nominated for "Music Producer of the Year" and "Female Artist of the Year" for the Josie Music Awards. 
In the Winter of 2020, she was featured at The NAMM Show speaking for RME. She has earned serial sync licensing placements with Antares and various others. 
In the winter of 2020, she signed a publishing partnership with Copperline Music Group/SPROCKETS, working on music for sync licensing placements.  In the spring of 2020 she released her next single entitled, "Plague".  She dropped her 15 song Christmas album called "JOLLY!" in the fall of 2021. She currently works full-time as a music producer, vocal coaching, artist development, consulting, branding, songwriting and more with independent labels, publishing companies and artists.